Save $500 On Our Best-Selling Water Ionizer!
CHANSON MIRACLE MAX
Start drinking the cleanest, healthiest water from the brand you can trust. Chanson Miracle MAX is the most advanced water ionizer on the planet. With 7 oversized solid titanium/platinum plates, smtp power, ipad-llike touchscreen, mineral chamber, RAD self-cleaning and a 10 YEAR Warranty, we guarantee you're going to love it.
Retail price $2495     
Get Your MAX Today for only $1995!
 

THIS OFFER EXPIRES SOON, GET YOURS NOW!
---
Why Choose Chanson Miracle MAX?
---
The Miracle M.A.X ionizer is a true advancement in ionizer technology. It's the 1st water ionizer to use Touch Technology from ipad/tablets with a beautiful multi-color display.The M.A.X is also the 1st water ionizer which allow you to Remineralize with Himalayan Rock Salt. (ionic minerals!) The Miracle MAX is our top-of-the-line water ionizer and one of the most advanced ionizers in the world. Save thousands over the Kangen water and enjoy chemical-free operation, easy to use menu, ionic mineral water and more!
 
Chanson Water - Looking to the Future.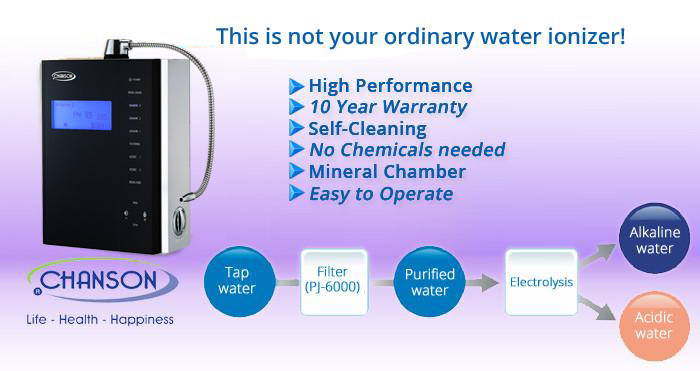 3 Ways Water Ionizer Machines Help Improve Your Health:
What Our Customers Are Saying:
Boost Your Alkalinity (technically your body has "pH buffers" which regulate your pH levels so that you stay alive, however when you are too acidic this places a large workload onto the pH buffers and lowers your immune system and takes away from other important body processes. Many health challenges are aggravated by Acidosis including Cancer.
 
Superior Hydration - statistics indicate that 80-90% of Canadians are not sufficiently hydrated and this leads to health issues. Our bodies are 70% water yet we are not inclined to drink sufficient amounts of tap water because it doesn't taste good and doesn't feel nearly as good as ionized water does. When it tastes good and feels good, you will naturally drink more. Just try drinking the water and you'll see.
 
Reduce Free Radicals - because of the negative ORP's present in alkaline ionized water from an ionizer machine (not from an alkaline jug which only boosts the pH), your body will neutralize Free Radicals each time you drink! Free Radicals are one of the biggest culprits that are behind many health problems. They disrupt the cells natural functioning.
We are loving our water ionizer.

We are loving our water ionizer. We have noted the taste of the water is better. We love the display it looks so sharp. :) I will get a pic to you one of these days :)  -Kaira M.
Great ionizer!
Great ionizer - easy to use with wide variety of pH levels. It also makes acidic water which is great for cleaning and will help avoid toxic chemicals in cleaners and save $$  -Pavel D.
My muscles are feeling much better

I'm really happy with the MAX, the water tastes great and my muscles are feeling much better after drinking the water the last 2 weeks. - Tony P.

It's made me feel great

I've got rid of all of my acid tummy, gout and skin problems and it's made me feel great! - Norman
HIGHLIGHTS:
Creates the highest quality Alkaline Water with 364 square inches of surface area in the electrolysis chamber.
7 pure titanium plates nano plated with platinum yield pH 1.8-12.1 and ORP +1200 to -920 at full flow with no chemical alteration
Chanson limited lifetime warranty is best in the industry
Certified as a medical device in Italy
Easily change the filter cartridge from casing on left side - Filtration of chlorine, diverse pollutants and bacteria using one of the highest quality on-board filters available.
Produces a wide range of water types from Strong Acidic to Strong Alkaline.
Advanced menu lets you customize the power levels to the plates.
Zerp chemicals required unlike many other water ionizers!
FAQ's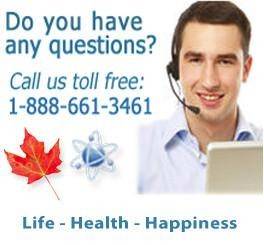 If you have a regular type of faucet, it takes less then 5 minutes to hook up! Simply screw in the diverter valve (it comes with adapaters for different sizes). Do you have a shower-head style faucet? In this case you won't be able to use the diverter method. We supply you with a T-fitting that you can use to route the water from under your sink directly into your Miracle MAX. Some people will drill a small hole through their sink to route the intake hose. (you can always get a metal plug later if you move). You may be able to route the water through a soap dispensor, dishwasher or other way if you are unable to drill do to renting, etc.
Chanson Miracle MAX comes with a 10 year warranty and has a very low repair rate. If you have any issues simply call us and usually we can resolve them over the phone. In some cases you may need to send in your MAX for repair. Our Canadian service center is in Vancouver BC. It costs about $40 to send it to us by post for repair.
Yes. Canada Ionizers is powered by Shopify, one of the leading e-commerce platforms in the world. SSL with 128 bit encryption protects your data. Your credit card information is not stored on our website, only the last 4 digits.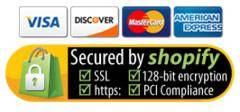 Get Your MAX Now & Save $500!

HERE'S WHAT YOU GET:
7 Titanium Plates-Electrodes - New oversized plates with a full 364 square inches of ionization surface area. 99.989% pure titanium with Chanson exclusive platinum nano coating; electrodes are smooth and solid, no mesh or perforated plates

Touch Screen Control - The stainless steel faucet incorporates a beautiful Smartphone-like display that allows control of alkaline and acidic streams.

Radial Action De-Calcification (RAD) self-cleaning system - counteracts calcium build-up inside the plate cell. Tested in 1300 ppm Total Dissolved Solids (TDS) "hard" water.

Citric acid cleanings - Filter cup allows a use of citric acid to clean throughout the machine. Even with self-cleaning, all machines will eventually need a cleaning

Himalayan Rock Salt - place it in the basket, choose the acid water setting and you make highly acid water. Third party verified to kill e-coli and Staph on contact.

Flow Control Valve - allows manual flow adjustment for best ionization results

Flow Control Alarms - make you aware when you are not maximizing ionization

Micro-Adjustable pH Settings -   fully adjustable settings at every pH level; micro-adjustments allows settings between the norm; i.e. - pH 9.3 instead of 9.5?

Commercial Grade, Non-Heat Generating Power Supply - allows almost continuous use

Chemical-Free Filter - 5 micron silver-impregnated coconut shell carbon block filter

Easy to Change - The under the cover filter is easy to change

Auto Memory Save - saves your settings even after power outages

Advanced CPU - A computer chip programmed for perfect water at every setting and also monitors plate conditions

Touch-Screen - Screen is Waterproof and displays pH, water flow speed, filter life, speaker volume level and setting numbers  

Adjustable self cleaning - choose the interval that you desire self cleaning

Hot Water Protection - Hot water sensor and auto alarm

Change filter notification

BPA & Chemical Free - BPA, lead, mercury, cadmium and iron-free materials are used in the MAX and it is ROHS compliant

Easy Installation - Comes with all accessories, manual, Quick Guide and installation DVD

Integrated wall mount inserts on back of unit    

What is included -

Miracle Max Water Ionizer

5 micron silver impregnated carbon block filter

pH test kit

Quick Start Guide, installation DVD, and owner's manual

Faucet with Digital Display & connectors for standard faucet installation

Accessory kit and tubing

Himalayan rock salt sample

Citric acid Sample